EduPark is your key to education expertise
Want to learn about education in Finland?  – we are the right place and partner
Joensuu is the town with the most students in relation to inhabitats in Finland. There is a huge range of education from university to day care pedagogics, forest bioeconomy – and you name it – in a condenced geographical area at the Finnish Lakeland.

EduPark is our network that brings the knowledge from the world-famous Finnish educational sector under one roof. Furthermore, the different organisations from schools and educational institutions to companies work and develop together. Thus, at a glimpse we can offer versatile study and visitor programmes and consultations – either in Joensuu or somewhere else on the planet.

Or actually, in our Epic -process our education has also been partnering with NASA to study how to inhabit the Mars…this was thanks to our flagship company Valamis!

Edupark in a nutshell – watch a video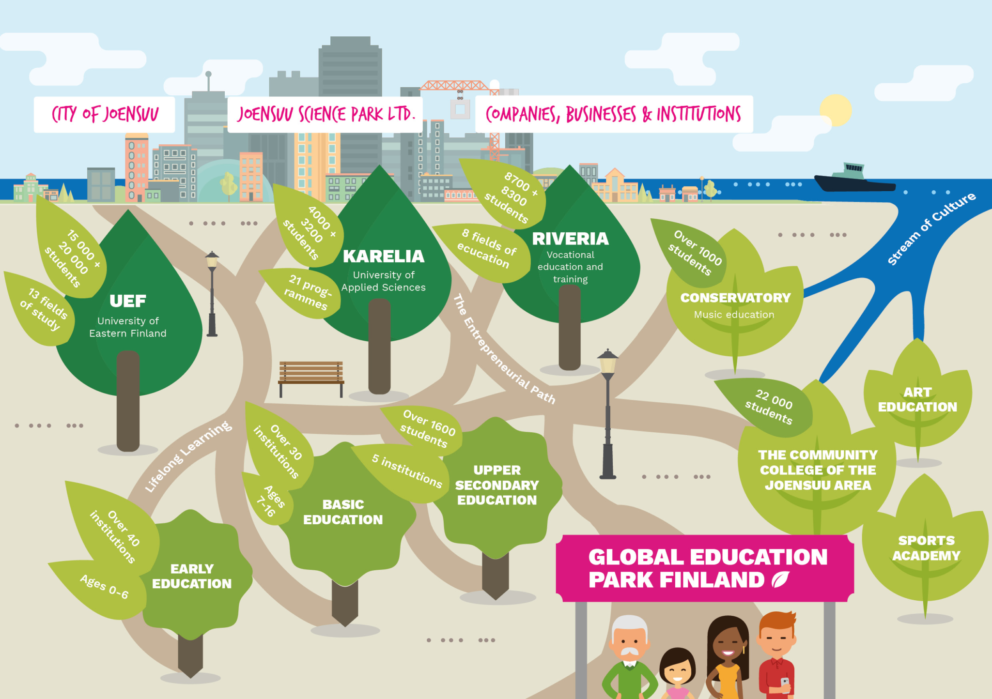 EduPark is offering tailored services for educational experts

We will help you to develop your educational competence
We will give inspiration for your future's development
Our network's top competence fields are:
You are warmly welcome to visit us
Feel free to combine your educational visit with genuine Finnish experiences 
How can we help you?
Fill out the contact form

Key contact persons of EduPark
Primary contacts in all education excellence cases
Due to the fact that several hundred people are currently working on themes promoted by EduPark, we encourage you to contact us first in order to establish the right contacts for your needs. You can contact Auli & Ville in English and Spanish (Finnish, of course, too).
Dr. Auli Leskinen
Development Manager
Business Joensuu Ltd.
www.businessjoensuu.fi
email: auli.leskinen[at]businessjoensuu.fi
tel: +358 50 4308850
Twitter
Dr. Ville Nivalainen
Development Manager
City of Joensuu
www.joensuu.fi
email: ville.nivalainen[at]joensuu.fi
tel: +358 50 4652281
Linkedin
---
The key contacts of educational institutes
Dr. Liisa Timonen
Head of International Affairs
Karelia University of Applied Sciences
www.karelia.fi
Special interests:

strategic internationalisation of higher education and partnership development
international development project design and coordination
systemic competence development
research in diversity and inclusion management and entrepreneurial education
participatory teaching and learning in multicultural environment

email: liisa.timonen[at]karelia.fi
tel: +358 50 5913397
Linkedin

Katja Väyrynen
Head of International Vocational Education & Training
North Karelia Municipal Education and Training Consortium
www.riveria.fi
email: katja.vayrynen[at]riveria.fi
tel: +358 50 5624685
Anne Karppinen
National Taitaja Competition Director 2019
North Karelia Municipal Education and Training Consortium
www.riveria.fi
email: anne.karppinen[at]riveria.fi
tel: +358 50 3598042
 
Tommi Anttonen
Principal of Forestry education
North Karelia Municipal Education and Training Consortium
www.riveria.fi
Special interests:

Basic training of skills of mechanised logging and logging machinery
Training of experienced logging professionals
Training of trainers and supervisors
Evaluation of skills / worker profiling

email:tommi.anttonen[at]riveria.fi
tel: +358 50 5471008

Prof. Jouni Pykäläinen
Head of the School of Forest Sciences
University of Eastern Finland
www.uef.fi
email: jouni.pykalainen[at]uef.fi
tel: +358 50 3826094
Linkedin
Mari Argillander
Coordinator of Transnational Education
University of Eastern Finland
www.uef.fi
Special interests:

Virtual team collaboration and team building
Organisational development

email: mari.argillander[at]uef.fi
tel: +358 40 3553850
Linkedin