Development of education ecosystem in Joensuu's innovation environment 2016-2019
Summary of eMBA thesis (University of Eastern Finland 2020)
Dr. Janna Puumalainen, Development Director, City of Joensuu
Dr. Janna Puumalainen
Development director
City of Joensuu

Janna Puumalainen received her MSc degree in forest science (1994) from the University of Joensuu, Finland, and doctorate degree (1998) from the University of Göttingen, Germany.
After her graduation she worked in international tasks for instance for Stora Enso Ltd, European Commission JRC and CSIR South Africa for a period of ten years. She has work and study experience from Germany, Italy, Belgium, Ireland and South-Africa – besides Finland.
Since fall 2004, Puumalainen has worked in various posts at the city administration of Joensuu.
E.g. director of cultural department (2009-2012), director with focus on education, day care and leisure time (2013-2016)
Dr. Janna Puumalainen is currently responsible for business development, international collaboration, employment and immigration. She is also the 2nd replacement for the mayor (non-political).
Chairman of board at Cultura Foundation (www.culturas.fi) and VisitKarelia (www.visitkarelia.fi)
Puumalainen received eMBA-degree from the University of Eastern Finland in February 2020.
---
Full publication can be downloaded here
---
Background
Joensuu has the most students in relation to the inhabitants in Finland. City population is ca. 77,000 and that of the region 120,000. Joensuu is a university town and capital of North Karelia at the heart of Finnish Lakeland
In 2016 University of Eastern Finland decided to strengthen the teacher education at Joensuu campus and challenged the city for new kind of R&D and ecosystem collaboration
City of Joensuu won the urban growth agreement 2016-2019 with the state and chose education ecosystem as a new topic for development (besides forest bioeconomy and photonics)
Education ecosystem development has been supported by two EU structural fund projects (2016-2020)
Key players besides the city and city schools are University of Eastern Finland, Karelia University of Applied Sciences, Riveria vocational training, Finland University, Education Finland and Business Joensuu
Aims of the work
Describe Joensuu innovation environment
Describe the development of education ecosystem in 2016-2019 (www.edupark.fi )
Find out how widespread experience people working in the educational sector in North Karelia have about international collaboration, R&D and entrepreneurship/business-related issues
Pave way for future development in the area by looking at the results

From the point of view of change making and change observation. Theoretical background: Sensemaking and observing the change in organisations (Weick 1995)
To evaluate the state of the innovation environment and city's role in it
Innovation ecosystems
Variable and diverse, focus can be e.g. on knowledge creation, innovation or business development
Knowledge concentrations (organisations and people) with active collaboration between public sector, companies, universities, research organisations and third sector
Typical charasteristics: interactivity, self-direction, mutual dependence and continuous adaptation to change
Innovation ecosystems create new ideas, innovations, business and growth
At best innovation ecosystems are strongly networked internationally
Joensuu innovation environment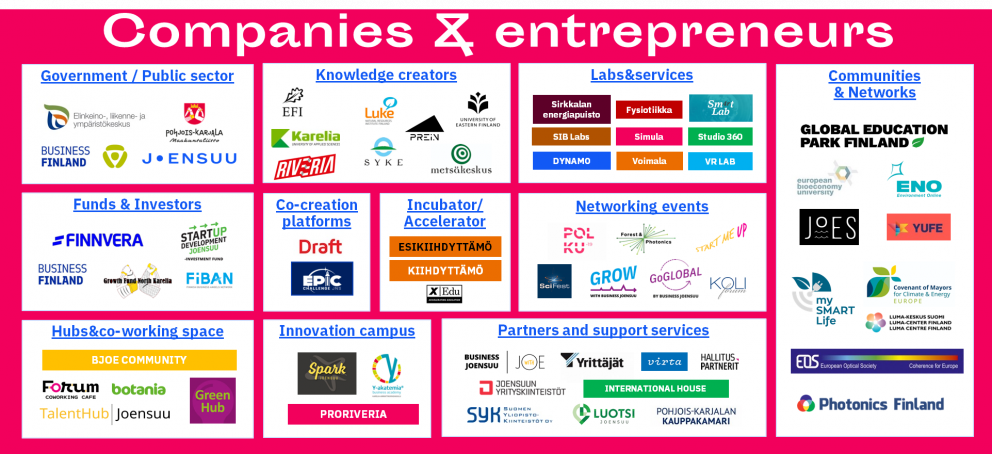 Central links
Cities role in innovation ecosystems: 10 points
Lead by showing example
Know the "DNA" and the players in your town
Prepare a joint vision for the different players and stakeholders
Facilitate shared leadership
Define innovation ecosystem so that it supports the vision of the city, strengthens the capabilities and uses well the resources of different strakeholders
Make clear decisions on what you do and what you do not do
Continuously seek agile ways for working
Develop the organisational and administrational structures so that these support the innovation ecosystem
Develop ways to motivate different stakeholders
Develop network to learn and benchmark nationally and internationally
Edupark.fi description
"Joensuu is the town with the most students in relation to inhabitats in Finland. There is a huge range of education from university to day care pedagogics, forest bioeconomy – and you name it – in a condenced geographical area at the Finnish Lakeland.
EduPark is our network that brings the knowledge from the world-famous Finnish educational sector under one roof. Furthermore, the different organisations from schools and educational institutions to companies work and develop together. Thus, at a glimpse we can offer versatile study and visitor programmes and consultations – either in Joensuu or somewhere else on the planet.
Or actually, in our Epic -process our education has also been partnering with NASA to study how to inhabit the Mars…this was thanks to our flagship company Valamis"
Edupark.fi 2016-2019 – What has been done?
Resources through EU structural fund projects (two project applications ca. 1.2 M€), recruitment of eduparc staff
New type of collaboration launched btw organisations
Creation of www.edupark.fi pages
Establishment of a monthly newsletter, several events
National and international networking (e.g. Education Finland steering group membership, associate membership)
Search&coordination of business leads (currently ca. 100 per annum)
Education & coaching for education-related business skills
Export-oriented business trips abroad (ca. 10 altogether, focus in South America)
Almost 30 companies involved in collaboration network
City of Joensuu 2016-2019 – What has been done in relation to edupark.fi?
Contruction of ca. 700 new student flats, including the highest 14 storey wooden building in Finland
Investments in several new schools and kindergarten
Financing of the university professorships on creativity education (2018-2023) and digital leaning and learning environments (2018-2020, partially finances by the city)
Financial support for some university development projects and conferences, SciFest –festival and ENO Environment online network
Own development projects in the sphere of education and daycare (2018 volume ca. 1.8 M€)
International visitors in city schools, ca. 300 per annum – truly global
Education in North Karelia: ca. 20,000 students in Joensuu
| | Joensuu + North Karelia | Altogether |
| --- | --- | --- |
| High School | 1 759 + 910 | 2 669 |
| Vocational training, Riveria | 5 240 + 1 555 | 6 795 |
| University of Applied Sciences, Karelia | 3 803 | 3 803 |
| University of Eastern Finland, Joensuu campus | 9 148 | 9 148 |
| Altogether | 19 950 + 2 465 | 22 415 |
6000+ jobs in education in North Karelia
| | Annual budget | Staff | Financing |
| --- | --- | --- | --- |
| University of Eastern Finland | 221 M€ (whole university) | 2 683 of which 1185 in Joensuu campus | Ministry of Education (MinEdu) 59% / Other 41% |
| Karelia University of Applied Sciences | 27.6 M€ | 341 | MinEdu 84% / Other 16% |
| Riveria (vocational training) | 55.4 M€ | 708 | MinEdu 80% / Other 20% |
| Municipalities | City of Joensuu 124.6 M€ (education and daycare alone) | 3 400 (education and daycare) of which 50% in city of Joensuu | Municipal budget (mainly tax income and state contributions) |
| Other (e.g. Flahship company Valamis) | | 500+ | |
Questionnaire for edu staff in North Karelia (n=499): Good experience in… (%)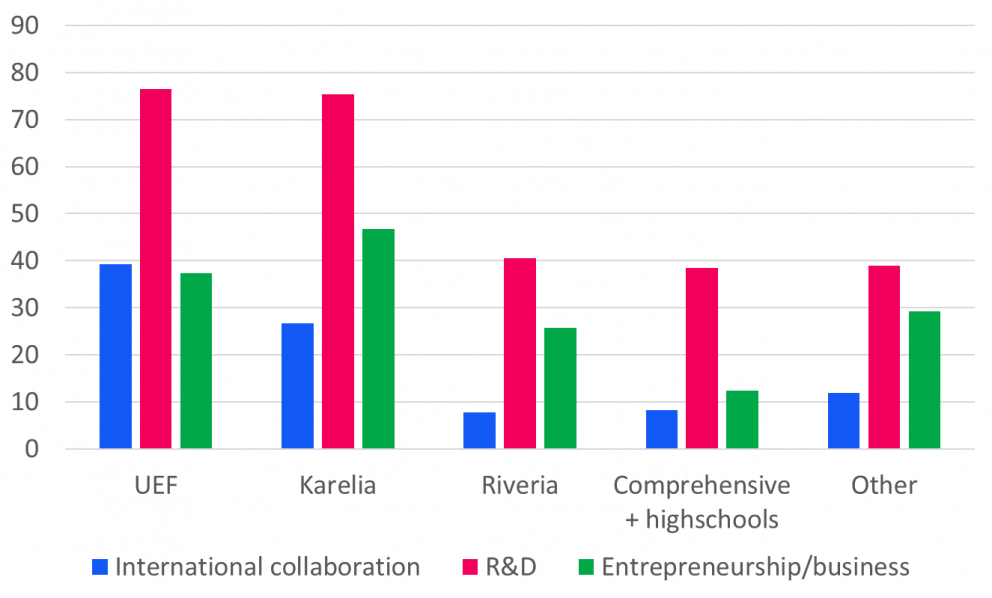 Interest to do more internatioanl collaboration in the future (%) in different age groups (n=499)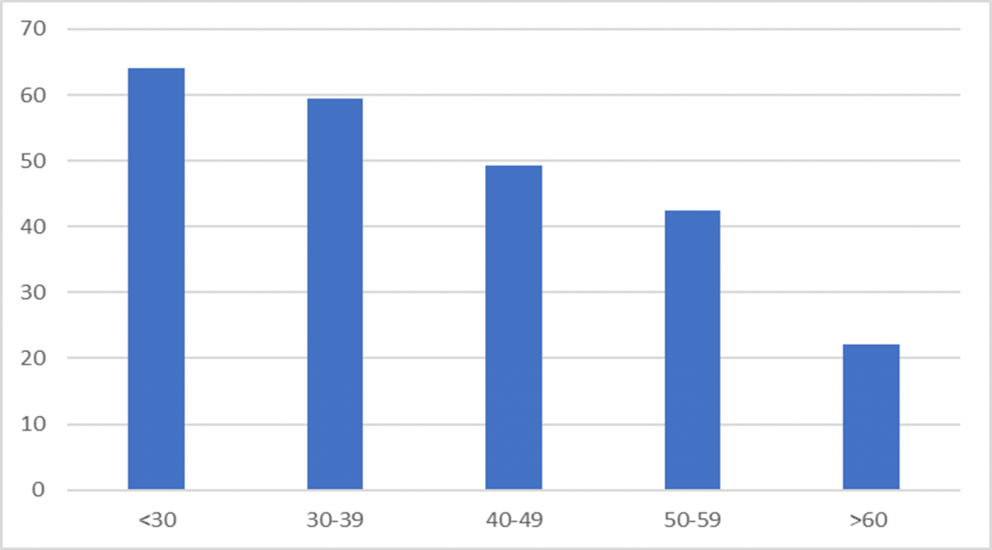 Observing the change – Aspects of sensemaking (Weick 1985)
Take action to change the environment (fullfilled in edupark.fi process)
Clues: people start to notice that something is happening (e.g.more people came to edupark –events and order the newsletter)
People understand what is happening in some social context, each in his/her own one => confusion, different ways to understand… (e.g. is this only education export, new way of collaboration or ecosystem development?)
Oberving what has happened afterwards (e.g. eMBA thesis work)
Clues: the change continues all the time, observations about it
Explaining what is going on & happening (communication), e.g. edupark.fi description
Future steps and strenghtening of the identity
---
Full publication can be downloaded here
---
Joensuu – City of Education