Finnish education in a nutshell
Education lies at the heart of society
Education is one of the cornerstones of the Finnish welfare society. We pride ourselves on an educational system that offers equal opportunities for education for all. Education from pre-primary to higher education is free of charge in Finland. The new core curricula for pre-primary and basic education adopted in 2016 focus on learning, not steering. Finnish teachers are highly educated and strongly committed to their work.
The Finnish education system are grouped into levels of education. The Finnish system has no dead ends. Learners can always continue their studies on an upper level of education. Read more
                                                                                            Ministry of Education and culture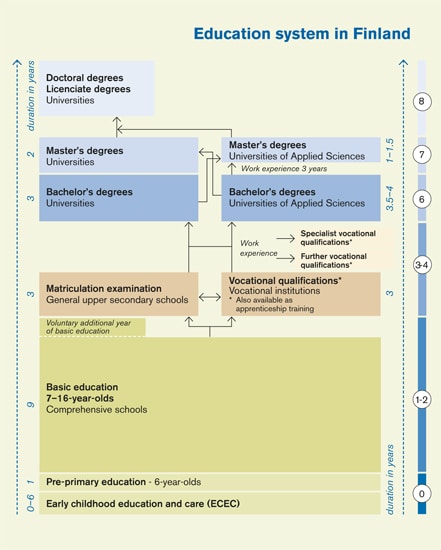 The Finnish education system, Ministry of Education and Culture
Finnish education – Equal opportunities for all
Learn more about the world-known education system by watching a video
Compulsory education in Finland
Education was made compulsory 1921
All children residing permanently in Finland are required to attend comprehensive school. Compulsory education lasts ten years. It starts at the age of six and ends at the age of fifteen. Almost all schools are public, there are very few private schools in Finland. Most pupils go to a municipal school near their homes.
Education from pre-primary to higher education is free in Finland. The textbooks and education materials are free. In addition to that pupils also get a free school meal every day. Health care services are free as well.
The school hours vary somewhat from year to year, but the autumn term begins in mid-August and ends a few days before Christmas. The spring term begins on the first weekday after 1 January and ends in the beginning of June.
One of the most successfull education systems
Finnish youth are the best young readers in the world
The Programme for International Student Assessment (PISA) is an international study that was launched by the OECD in 1997. It aims to evaluate education systems worldwide every three years by assessing 15-year-olds' competencies in the key subjects: reading, mathematics and science. To date over 70 countries and economies have participated in PISA.
Finland has been among the top countries in PISA ranking since the first assessment in 2000. According to the newest PISA global education survey results, Finland is the only country in which girls are more likely than boys to be top performers in science.
What is so special about Finnish education?
Teaching is a very popular profession
No inspections
No national exams
No teacher evaluation
Teachers feel valued by society
Short school days
The amount of homework is low
                                                                                  Finnish National Board of Education
What are the secrets behind the excellent learning results?
You are warmly welcome to visit our educational environments and learn with us. Cooperation and the sharing of know-how is the key to success!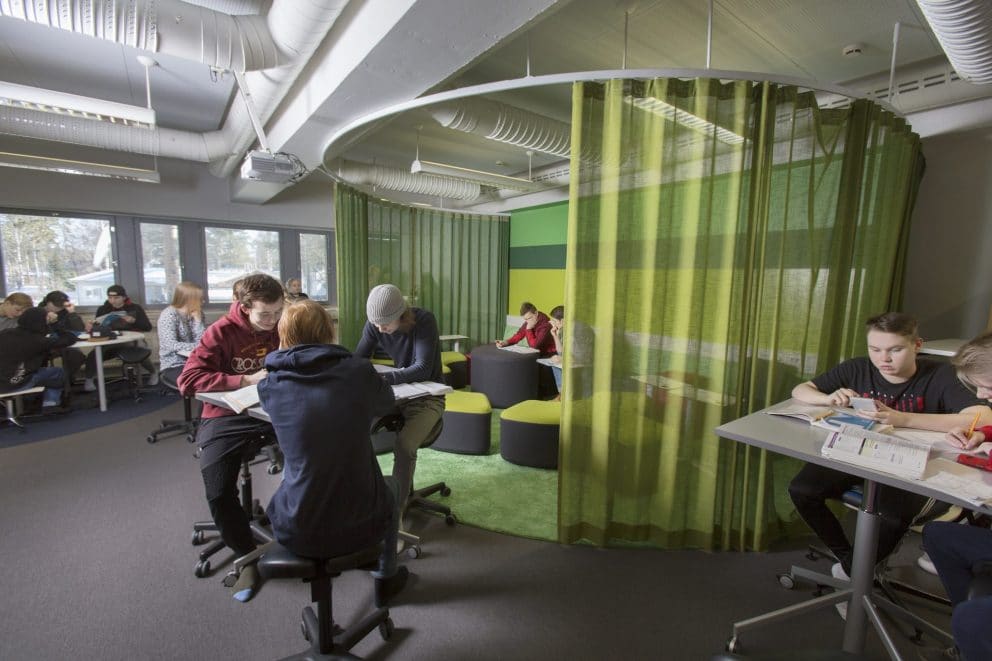 Brochures and other materials related to education
Are you looking for information on education in Finland? The page of Ministry of education and culture gives a list of the Ministry's links to brochures, publications, videos and other presentations on education in Finland.
More brochures in different languages relating to education you can find on the webpages of the Finnish National Agency for Education.